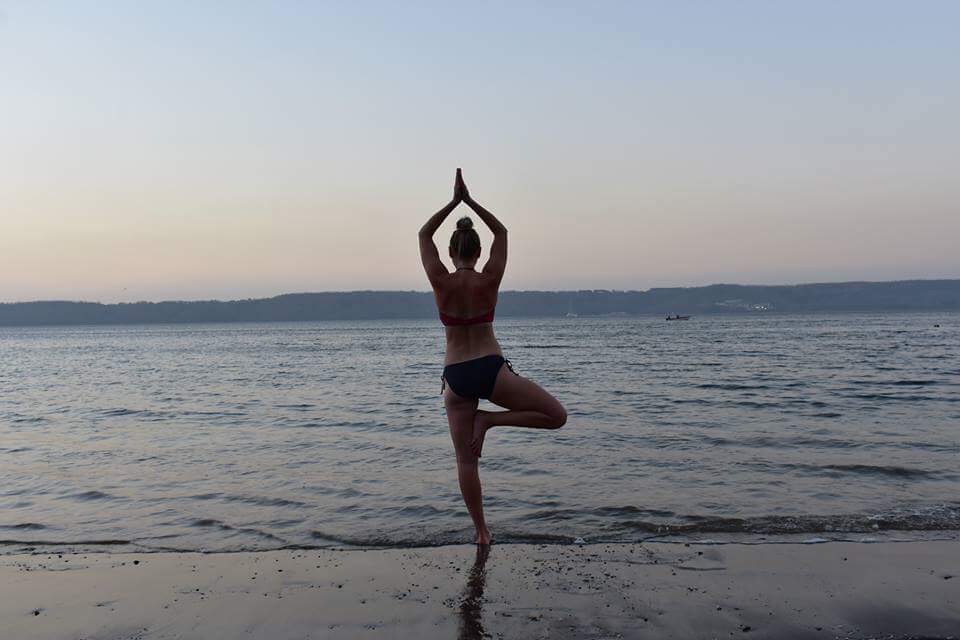 These days I try to not overexercise. I only do exercise that feels good to me. It's not about burning the most calories possible, to me. It's not about killing myself in the gym, or doing anything that feels more like torture than pure joy of moving my body.
In fact, I had to learn this lesson over again this week ; )
I got on my bike for the first time this season! I literally had to hose spray the dust off of it from winter. I went with one of my long time clients who bikes regularly, and she just rocks it every time. I love going with her because it's more about conversation and enjoying the weather and just feeling really good while moving!
Definitely my kind of work out : )
But if I'm going to be completely honest, I probably road a little too far. We went 20 miles, which to some is like nothing and to others is like a lot… and it felt really good while we were doing it, but the last probably 5 miles it started to not be as fun anymore.
But we both really wanted "that 20 mile marker"!
Or at least our egos did ; )
So we did it and it felt great to accomplish that and we went over the lunch hour so I just had a smoothie afterwards because it sounded super good…. and it was, so so good. My smoothie game has really been on point lately (let me know if you want any pointers/recipies!)
So I worked the rest of the day and had a few more clients – I even did a yoga session with some clients later that day…. I was justifying it, "I need yoga so I won't be so tight tomorrow from the 20 mile bike ride."
And then dinner came around and I randomly had some Elk hamburger de-thawed (which was quite delicious) and I found this "Sloppy Elk Burgers" recipe which is very similar to Sloppy Joes…
And by this point it was 7:30pm and I hadn't eaten since my smoothie and I was pretty ravenous and so I ate the Sloppy Elk Burger with all the Sourdough bun and all the tater tots and all the snap peas.
I ate too quickly, in a stressed state, which I know caused me to shut down digestion and made the food sit in my stomach.
And all the sudden I had a flashback to when I was training for my first sprint triathlon, and I was over exercising, and it would almost ALWAYS lead to overeating and made me feel terrible about myself. Like I was a hamster just stuck in a wheel trying to lose weight, be healthy, feel good, but I was trying way way way too hard and doing way too many things including eating too much.
But this time I just took a nice hot shower, told honey that I needed to go to bed early because my stomach hurt, ate a couple digestive enzymes (they've really helped me) and brought some water with me. I just laid in bed for probably an hour in silence and intentionally relaxed, slowed down, got to a meditative state, and said nice things to myself…
Sure enough my stomach started to feel better and I was able to fall asleep. The next day was the next day! There was nothing to morn over and there's no way I'd ever "skip breakfast" (totally something I would have done in the past) because I ate more the night before than I usually did. No, now I just have a lighter breakfast and check in with what I need to start my day feeling really good. I think I had a different smoothie recipe that morning.
​​​​​​​I know this is a long story, but if you've made it this far you can probably relate.
Exercising a ton doesn't mean you're going to lose weight. If you feel like you are caught in this cycle right now where you are over-training, over-exercising, over-competitive, over-perfectionistic, over-doing-everything — and you're over-eating. I strongly encourage you to back off, just as an experiment, to see what happens. Notice how it feels, and see if you feel better!
Laying in my bed doing absolutely nothing but breathing and saying nice things to myself was the best I felt all day. I wanted to cry because it felt so good to slow down, breathe, get back into my body, and reconnect. Try this or something like it next time you catch yourself in a frenzy of over-doing.
I love you for reading my story! I hope you found it helpful or at least relate-able.
I'm teaching a Live Mindful Movement video in my private facebook group around 3:30pm MTN! 
Most of you are already in the group, but if you're not you can join us here. 
I've already had some suggestions to add my resistance bands and to do Yoga Sculpt (which is yoga with dumbbell weights) so it should be a great workout.