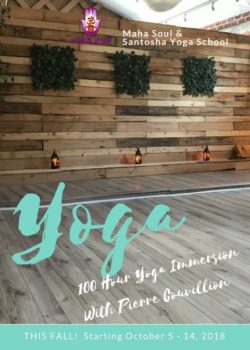 Yoga Immersion at its best. Settle in for some deep learning this Fall with a 10 Day Yoga, Ayurveda, Body Work & Breathing Immersion (100hr). Brought to you by Santosha Yoga School, founder Pierre Couvillion, and hosted at Maha Soul Yoga Studio in downtown Littleton. We welcome you to experience yoga at its true essence as we delve into yoga and its philosophy. We will also study meditation and breathing, the ancient study of Ayurvedic medicine, along with body work and yoga lab.
While this immersion can absolutely be taken to deepen your practice on its own, it can also be the beginning of your 200 hour Yoga Teacher Training.
Santosha Yoga School is accredited with both Yoga Alliance and the National Ayurvedic Medical Association.
The 10 Days are October 5 – 14th, 2018
Daily schedule
Friday Oct 5, 4-9pm
Saturday Oct 6 – Saturday Oct 13, 7:30am – 7:30pm
Sunday Oct 14, 7:30am – 3:30pm
Early Bird pricing: $995 paid in full by Sept. 1st 
$1495 thereafter
Partial attendance: $249 for any 20 hours, before Sep 1st
$299 thereafter
All classes will be held at Maha Soul in Historic Downtown Littleton. 5739 S. Curtice St. Littleton, CO 80120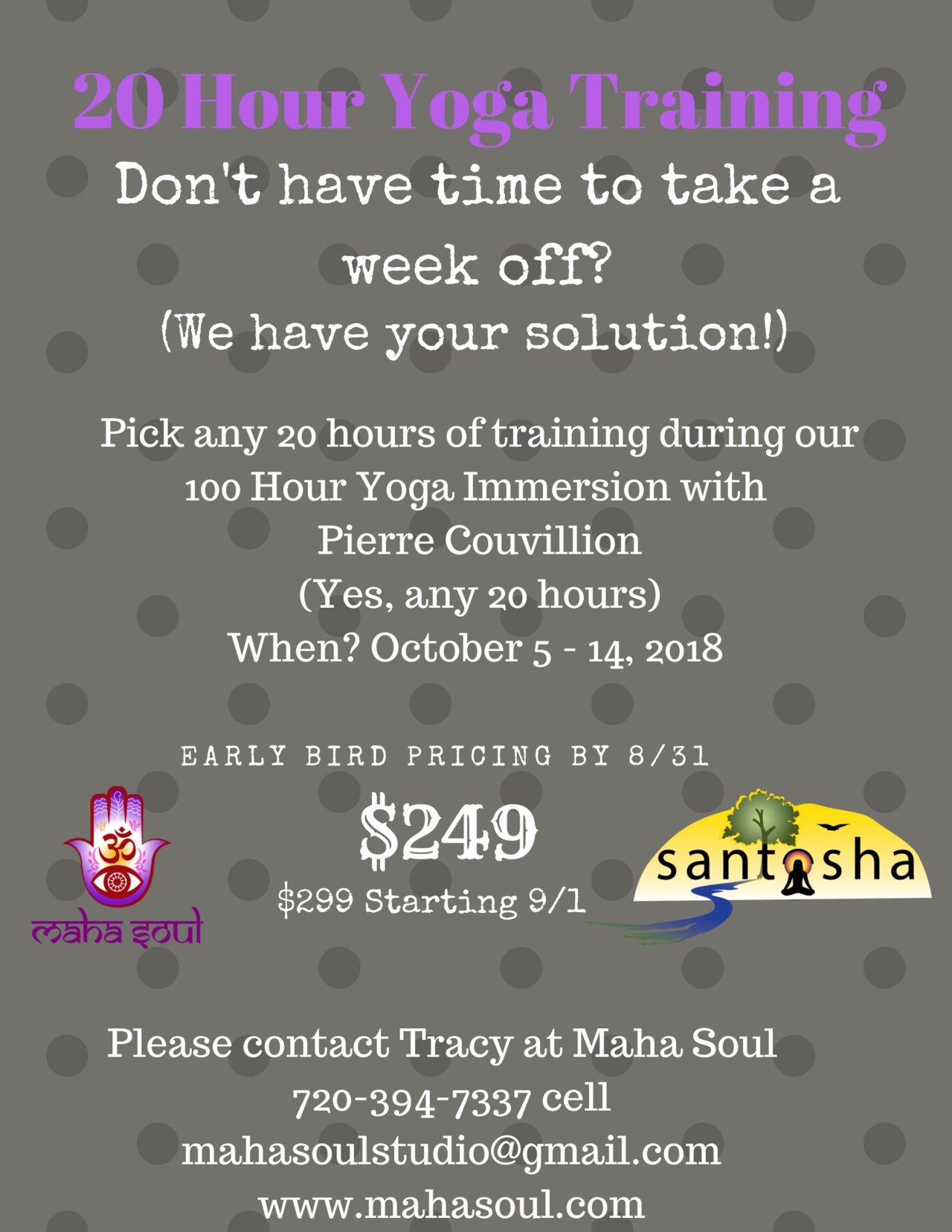 I will personally be signing up for several 20 HR slots that fit my schedule accordingly, and this is something you can consider too. I'm already Certified to teach yoga at the 200 HR Level, so I'm using this Immersion to continue my education and learn from a Master Teacher like Pierre. I'm most excited to take this time for myself and to learn and grow my personal yoga practice, but also to become a better teacher. My teaching style is rooted in Yoga Therapy and personalizing sequences for students that best support their physical needs and limitations. It will be a great refresher for me to dive into Sanskrit, Chanting, Ayurveda, and Breathing Techniques that I haven't really practiced much since my Initial 200 hr teacher training.
Watch the Video Below for a 10-Minute Interview with Pierre Couvillion and to learn more about the 100 HR Immersion!