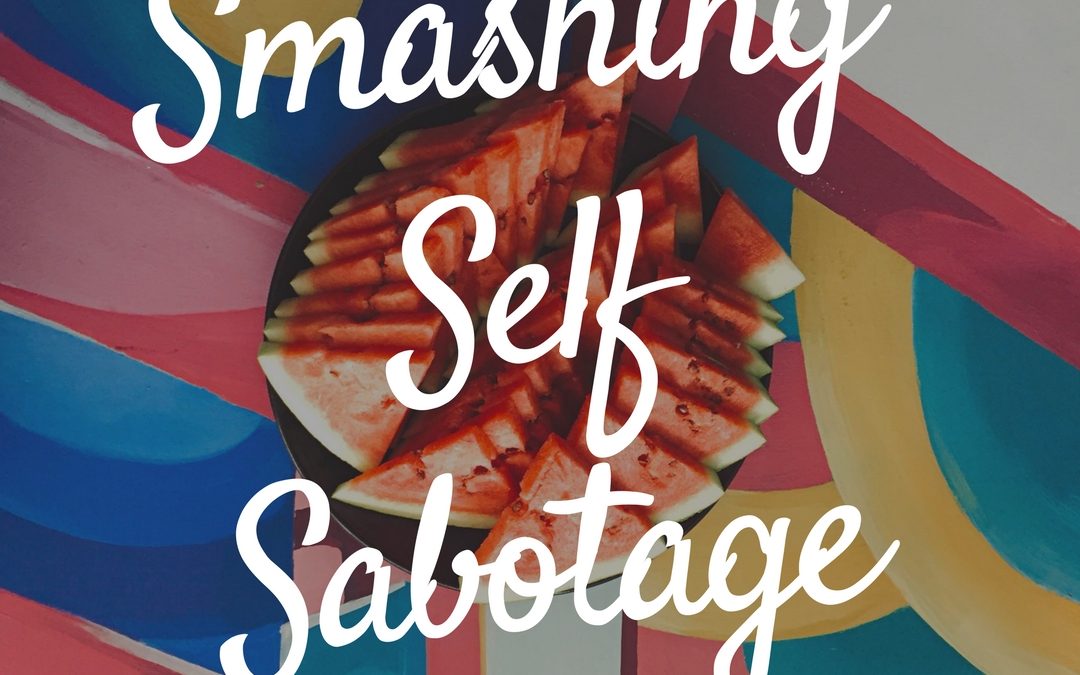 Welcome to the first Smashing Self Sabotage Coaching Call to be released on the blog!
Smashing Self-Sabotage, or "SSS" for short, is a coaching call series specifically designed to smash self sabotaging patterns, thoughts, and beliefs that hold us back and keep us from:
living the life we truly desire

believing in ourselves and what we have to offer

reaching our goals

feeling the way we want to feel, most of the time

loving ourselves unconditionally

experiencing deep and personal relationships with others
This call requires a commitment to transformation, coupled with a deep desire to heal from any form of self-sabotage that you may be experiencing. You will begin to get crystal clear on what it is that's making you sabotage, how those actions make you feel, and then be able to shift to a better feeling story.
Here are The 4 Underlying Tenets of Smashing Self Sabotage
What you resist, persists
What you focus on, believe in, think of – will become true
There is always a deeper meaning to your suffering
No one else can help you, but you.
There are a few resources that I want to introduce you all to, that we will continue to reference throughout this call series.
Inner Child, Outer Child & Adult Self
You may have heard the term your "Inner Child" before – it's pretty common terminology in the self-help world. I first heard of the terms "Inner Child" "Outer Child" and "Adult Self" in the book
Taming your Outer Child
by Susan Anderson. This book was a game changer for me, and truly helped me identify my inner child, outer child, and adult self. It got them working together instead of against each other. In the call I explain more in my own words.
Your Inner Child is that little girl within you, that still has some old wounds or traumas that hurt her. The Inner Child still needs a lot of nurturing and tending to. She needs a Momma Bear to hear here out, listen to her cry, and give her a big hug when she's hurting. Self Sabotage is
Your Outer Child is the honerey teenage version of you – that loves to be a rebel and act out in ways that don't make sense to really anyone but her. When you think
Adult Self is the 'grown-up' for everyone.
#2 The 6 Root Causes of Self Sabotage – taught to me by Kris Ward of abundantyogi.com – where I received my Lifestyle Design Coaching Certification
In the call I go over the 6 Root Causes of Self Sabotage, and relate it to myself and my own experiences. I also give you some tips on how to not succumb to these root causes and smash self sabotage before it goes too far.
Here they are in short:
Stuffing or Ignoring a Negative Emotion
Too Much Hustle and not Enough Self Care & Connection
Trying too hard to measure up, then zooming too far out setting goals
Blending work time with leisure time (aka living in the gray zone)
Resisting like crazy because we're believing our own made-up stories
Trying to manage what isn't ours to manage
#3 is filling out your Prep Form for the call and receiving one-on-one coaching with me. You are responsible to fill out a Hot Seat Prep Form before each call if you want 1:1 coaching during the call. This is not required, but this is really where the magic happens. We will go in order of who submitted their form first.
Here are some journal exercises that you can also do on your own.
THE INNER WORK:
Write all your self sabotaging patterns
Notice what these instances taught you about yourself and self sabotage
We are looking at these stories with the intention to release and reframe
Is the beliefs I picked up around this memory ultimately true?
Go through each of these stories and begin to write a story that feels better around each one